Download the Case Study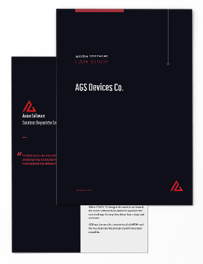 "The level of support Axiom Software has provided has been excellent, and I would definitely recommend it to anybody."

—Lucas Angelini, General Manager, AGS Devices


AGS Devices is an independent stocking distributor of electronic components specializing in the sourcing of hard-to-find and shortage status components. They also specialize in excess management, developing an ever-growing stock of electronic components to supply to contract manufacturers, OEMs, and other distributors.
Like other distributors, AGS faced a number of significant operational obstacles when it came to managing their data. They were juggling a long list of disparate systems and platforms to conduct business.
Additionally, their excess management operations required its own set of processes—and none of their systems were capable of supporting them efficiently and effectively.
AGS Devices decided they needed to find a more effective operating system to allow for stable and efficient growth. That's where ePDS came in.
"In terms of efficiency, ePDS has been a no-brainer. We're experiencing less human error because everything is auto-processed. Efficiency has gone up significantly across the board."