Download the Case Study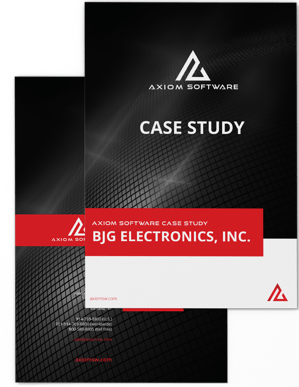 "Axiom Software understands our space in our industry. That's exactly why we made the decision to go with them.
"They have a really good business model for supporting distribution firms, and that's our primary business."

—Rick Flora, BJG Electronics


Since opening in 1979, BJG Electronics, Inc., has become a leading global supplier of interconnect and electromechanical products. Major military and aerospace OEMs count on them for their high-performance product needs. As such, BJG serves a range of markets, including commercial air, test and measurement, radar, and space.
Over the years, BJG Electronics experienced robust growth. Their legacy ERP system met their needs for a long time, but their operational needs soon outgrew their technology.
They had been continuously making one-off adjustments to their existing ERP system, which came with costs to update, adjust, monitor, and maintain. They knew they needed a new scalable, powerful solution to accommodate their growing operation, but were hesitant to make the switch knowing how disruptive the onboarding, training, and implementation process can be.
BJG is an ever-evolving enterprise—and ePDS was specifically designed to accommodate that evolution. See how our flagship ERP system transformed their operation.
"Through our new shared platform, we serve customers better. We all work off the same set of user interfaces to support our book of business. So far, this has been the most rewarding facet of using the system."