Download the Case Study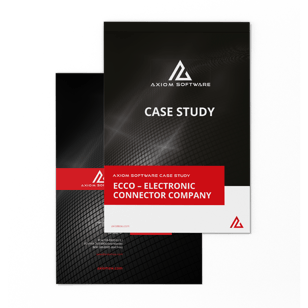 "For a project like ours, Axiom would run circles around other large enterprise software companies.
"When your software provider knows the acronyms and knows the issues, those are really big benefits."
—Bernard Gizzi, ECCO

Electronic Connector Company (ECCO) has forged a reputation as a premier authorized value-add distributor serving the world's leading connector, switch, and wire accessory manufacturers. They also serve as a qualified go-to resource for custom assemblies, designing and producing connectors and switches that meet strict industrial and military-grade specs for a diverse group of OEMs, worldwide distributors, and government agencies.
When new owners bought ECCO, they realized that their legacy computer system had become severely limited as the company grew over time. "It was a good system for 1995, but it was a bad system for 2015," says Bernard Gizzi, President of ECCO.
ECCO needed a scalable system to help their firm achieve consistent growth—and ePDS proved to be the perfect solution.
"If somebody came to me and asked 'Would you recommend Axiom?' I'd say 'Absolutely.'"